If you're a fan of Jamie Oliver and his iconic Italian-American cuisine, you may be intrigued by the recently opened Jamie Oliver Kitchen on the 4th floor of Palladium Mall in Thaltej, Ahmedabad. This restaurant is a blend of various cuisines, including Italian, Mexican, Thai, and Lebanese, which might make your taste buds do a little dance of anticipation. We visited this restaurant on its opening day, October 24, 2023, and here's what we found:
Ambiance and Décor (4/5):
Jamie Oliver Kitchen offers a cozy dining experience with about 10-12 tables. The open kitchen setup adds to the excitement, as the tantalizing aromas of the food being prepared waft through the restaurant. The warm and friendly interior, along with ample lighting, creates a comfortable and inviting atmosphere.
Service Experience (3/5):
The staff at Jamie Oliver Kitchen was friendly, but we did encounter some hiccups, possibly due to the opening day rush. We had to remind them about two of our ordered items, resulting in a 15-minute wait. Nonetheless, the overall service was pleasant and the staff was accommodating.
Food Quality and Presentation (3/5):
The presentation of most dishes lived up to the standards expected from the Jamie Oliver brand. However, the "Sunshine Jackfruit Curry" disappointed us, as the jackfruit was undercooked and challenging to eat. On the brighter side, dishes like "Spicy Muhammara," "Fiery Nachos," "Rainbow Bowl Salad," "Spicy Cottage Cheese Pizza," "Jamie's Veggie Laksa," and "Spaghetti Aglio E Olio" delighted our taste buds with their unique flavours. The "Pulled Jackfruit Wrap," unfortunately, was not a palate-pleaser due to an excess of barbecue sauce and soggy pita bread. For dessert, the "Tiramisu" lacked the traditional coffee flavour, and the "Mocha Mousse" landed somewhere in the middle of good and bad.
Menu Variety (4/5):
Jamie Oliver Kitchen's menu is impressively diverse. As a vegetarian restaurant, it also offers options for vegans and those with gluten-free preferences.
Price Range (3/5):
Although the opening day featured a budget-friendly rate of INR 199 per item on the menu, the overall pricing places Jamie Oliver Kitchen in the upscale category. However, portion sizes may not meet the expectations of budget-conscious diners.
Special Features (4/5):
Two standout items that are worth trying are the "Spicy Muhammara" and the freshly made "Pizza," which offers an authentic Italian taste.
Beverages (4/5):
As Gujarat is a dry state, you won't find alcohol on the menu. However, the "Guava Goodness" is a delightful option. The balance of sweetness from guava and spiciness from chili hits the right notes.
Location and Accessibility (5/5):
Situated within Palladium Mall, finding the restaurant is a breeze, and parking is not a concern.
Reservation Process (3/5):
On the opening day, there were no reservations, and due to the overwhelming crowd, expect a wait time of 45-60 minutes.
Crowd and Atmosphere (4/5):
The restaurant was reasonably crowded on the opening day, and it attracted a family-friendly crowd.
Special Events or Promotions:
At the time of our visit, we didn't come across any special events or promotions.
Personal Highlights: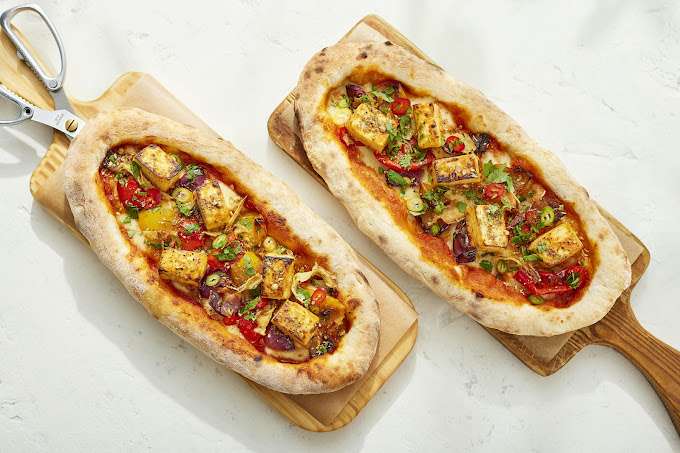 The "Spicy Muhammara" stood out with its perfect balance of texture and taste, and the "Pizza" was a heavenly delight, prepared with an authentic flavour palate.
Overall Rating (4/5)
In conclusion, Jamie Oliver Kitchen in Ahmedabad offers a mixed dining experience. While some dishes may not meet the high expectations associated with the brand, others shine with unique flavours and excellent presentation. The cozy ambiance and diverse menu make it a place worth visiting, especially if you're looking for a blend of various cuisines. Just be prepared for a bit of a wait, given the initial rush.
Have you dined at Jamie Oliver Kitchen in Ahmedabad or are you planning to visit soon? We'd love to hear about your experiences and which dishes you're excited to try! Share your thoughts and recommendations in the comments section below. Your insights can help others make the most of their dining experience. Let's keep the conversation going!
Stay updated with Jamie Oliver Kitchen's latest culinary creations and behind-the-scenes glimpses by following them on Instagram: @jamieoliverkitchenindia.
Explore the hidden flavours of this new culinary destination and decide for yourself whether it's a spot to revisit.
Disclaimer: The following review is based on the author's personal experience and reflects their opinion. Images used in this blog post have been sourced from the internet and the official restaurant website to enhance the reader's experience.