Continuing from Part 2 of The King Of Spices – Black Peppercorns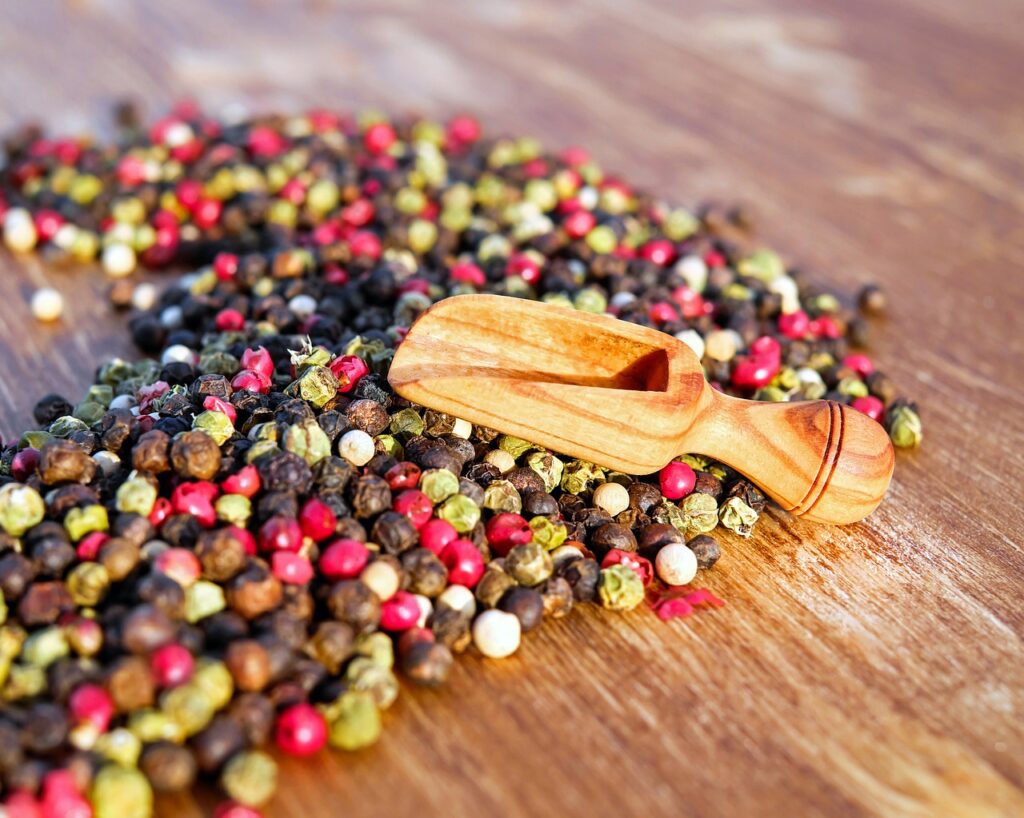 Researchers found that Black pepper contains sptichinol which is successful at reducing high cholesterol conditions.
The increased consumption of black pepper helps to decrease cholesterol levels. The compound piperine in the pepper can also enhance the absorption of dietary supplements such as curcumin.
Taking black pepper as part of your meals increases the presence of good bacteria in your gut. Black pepper also helps to naturally ease the pain and promote better absorption of nutrients.
Black pepper is often used in Indian Cuisine. Add black pepper to your cooking to spice up any dish, no matter the temperature. Black pepper is commonly added to salads by sprinkling salt on them. Black pepper can be added to soups, sauces, and meat.
This spice can be used in many dishes as it adds a unique taste that you will crave all day. These are some of the recipes with black pepper you should try.
When we tried Bone's pepper fry Paneer, we were surprised by how good it was.
Ingredients:
1 cup freshly chopped onions
¾ tsp of ginger garlic paste
1 cup chopped tomatoes
1 tsp salt
1 tsp of Black Pepper Powder
¼ tsp of red chili powder
¾ tsp of garam masala powder
Cinnamon
Curry Leaves
3 cloves
3 tbsp oil.
Preparation:
Pour oil into a pan and add cloves, cinnamon, and cardamom.
Add in the ginger-garlic paste and curry leaves, and cook it until the garlic smell reduces.
Add the onions and saute till they become golden brown.
Add the salt and fry the tomatoes.
Now add the paneer and cook for 5-10 mins on low or medium flame.
Now the black pepper paneer is ready to be served hot.
Add black pepper to the food at the last minute for the best taste. It's also healthy to eat and gives your dish a finishing touch.
Side Effects of Black Pepper
Although some people consume black pepper in healthy amounts, it can be difficult for others. Those with sensitivity to black peppers might face stomach issues on excess consumption.
If pepper enters your eyes, it may cause a severe burning sensation. To get rid of this severely painful sensation, wash your eyes and hands.
Some rare cases can result in irritation or allergy, especially if you are pregnant. So do check with your doctor about consuming black pepper.
The advantages of black pepper are many as I have mentioned above.
Black pepper is beneficial. Black pepper can help with food digestion. Add some pepper to your meals to help break them down and aid in digestion. If you eat too much, there is a chance of acidity or stomach burns.
Black pepper does reduce inflammation and is considered an antibacterial, antioxidant, and anti-inflammatory. Piperine is the major component found in black pepper which has been proven to reduce acute inflammation.
You have to have black pepper in your diet every day for its many health benefits. Black pepper can help you lose weight quickly, but you will still need to work out and burn fat to lose weight. If you rely too heavily on this spice, it can make you eat more than is necessary. Be careful not to take in too much of the spice.
We hope you have enjoyed reading the above posts. Do log in to our website www.hiddenflavours.in and fill your shopping carts.
Stay tuned for more interesting blog posts coming up.